LV Phantoms Set Teddy Bear Toss Record to Benefit VYH
The Lehigh Valley Phantoms, proud AHL affiliate of the Philadelphia Flyers, announced that the team's 2018 Teddy Bear Toss, presented by Dan's Camera City, held this past Saturday at the PPL Center, produced an impressive 7,148 teddy bears and stuffed animals, a new record for the Phantoms.  All of the stuffed animals were counted Monday morning and then delivered to Valley Youth House for distribution to youth across the Lehigh Valley.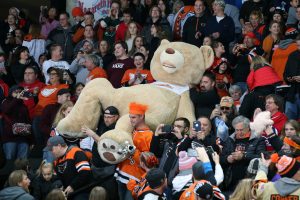 Over the past five seasons, Phantoms fans have now donated more than 20,500 Teddy bears and stuffed animals through the Teddy Bear Toss (1,728 in 2014, 2,773 in 2015, 4,125 in 2016, 4,970 in 2017 and 7,148 in 2018).
Phantoms forward Connor Bunnaman netted this year's teddy-bear-toss goal at the 4:06 mark of the first period in Saturday night's contest.  Assists on the goal went to Greg Carey and T.J. Brennan.  All three of the players that produced the goal that sent the bears flying were on hand to help with the delivery at Valley Youth House .
The Phantoms have now seen five different players score the teddy-bear-toss goal over the past five years: Brett Hextall (2014), Andrew MacDonald (2015), Nic Aube-Kubel (2016), Matt Read (2017) and Connor Bunnaman (2018).
Thank you, Phantoms, for all your support!
View Photos from the Teddy Bear Toss Delivery (see more photos and video on our Twitter and Instagram pages)